Taking a trip to Market Basket yesterday appeared like World War III was about to break out, and people were buying up everything in sight before rationing kicks in. Relax! there's no shortage of food, overbuying has decreased food on the shelves. The only reason shelves were looking bare throughout the store was because everyone and their brother were stocking up on virtually everything. We did all our "normal" emergency event shopping when the news first broke about the virus reaching the United States – that was weeks ago. There was no frenzy to buy disinfectant supplies, hand sanitizer, and rubbing alcohol yet when we went and did our big shopping – it took two shopping baskets between my mother and me. We each spent over $200 that week, but that was normal preparation for an emergency event, like a snow or ice storm.
I could have posted an article disclosing that we were preparing, while everyone else was going about their daily business, but the fact of the matter is that the fear that caused everyone to stock up on the products that are now out of stock was irrational, and I didn't want to spread fear. We only purchased things that we needed for the following 2 weeks – not the next 2 months like I suspect many people have been doing. Also, an employee at Market Basket said the major issue right now is they haven't had enough help to stock shelves, and they're also having to disinfect the store during the night shift now.
There could be prolonged shortages of products that are imported from other countries, such as seasonal produce and specialty foods like Italian meats, however, there will not be shortages of toilet paper, paper towels, and other paper products. Eventually, everyone will be so stocked up on these items that there will likely be pallets of these products sitting in the storage room in every store, and there will be plenty of supply – just less demand to buy them for a while.
Products that are made in the United States, such as milk, cheese, eggs, and bread will not have shortages in the long-term. I was shocked to find almost the entire bread aisle completely bare other than a few loaves of Rye bread – but that won't last for long. How much bread do you really need to stock up on during a crisis? If you're out of bread right now, you can make your own by buying a bread maker. It doesn't taste the same as store-bought bread, but it's certainly a lot healthier, and the bread-making supplies keep for a long time. Plus, homemade bread doesn't have all the unhealthy additives, like high-fructose corn syrup and sugar.
Frozen food aisles were looking bleak, including frozen meals, frozen fruit, and frozen meat. There was plenty of ice cream when we shopped yesterday. Everyone had to go to Market Basket and buy enough poultry for 2 weeks, it appeared, as there was an entire section of fresh chicken that was completely gone – even all the expensive non-GMO Organic chicken. Frozen chicken products were also looking low in stock, but there was plenty of beef available, and even some left-over corned beef brisket – we usually cook that for St. Patrick's Day.
We were told that Seniors can come in on Tuesdays, Wednesdays, and Thursdays from 5:30 AM to 7:00 AM before the store opens to the public, to ensure that the store is the cleanest for them, and also it's ok to bring your Senior support staff or helpers, i.e. whoever is driving you, or helping you to shop. This is what we're going to be doing next week because my mother is over 70 years old. I was telling UNH Administrators that they needed to shut the school down before they even realized there was going to be a crisis, and what motivated me was looking out for my mother's health. It's really important that we protect the Senior population from exposure.
I think people should realize that the social distancing may last for as many as 18 months, based on the government's current plans, so it really doesn't make any sense to go out and buy everything in the store for the next 6 months. You're still going to have to go to the grocery store every week – just consider limiting the number of trips you take to the grocery store. If you don't already, make out a list and a meal plan for the entire week, and figure out everything you need if you're the type of person that frequents the grocery store multiple times a week.
A lot of what we bought in this week's shopping trip was for End 68 Hours of Hunger because we really didn't need a lot – we haven't needed much since our big shopping trip. Still, we couldn't find everything they were asking for. I personally felt bad knowing there are people that can't afford to stock up on groceries to ensure they have enough food in case they're put into self-isolation, or to have money to purchase cleaning supplies or face masks. I'm hoping the government's stimulus checks will really help, and that there will be public health workers that can pick up food and supplies for people that come down with Coronavirus.
We aren't rich, we have barely enough to support ourselves, but we help others as much as we can, like hosting this website and providing the news. It all costs money – it's our low-cost way of helping the community out, especially in tough times like currently. I personally spend much more time volunteering for the newspaper than I do anything else, plus I support the company financially because we currently don't have enough advertisers to support our overhead costs.
So if you're looking for a way to help our business help you, you can use all of the various parts of our website, especially the Business Directory (https://directory.barringtontownnews.com/), and do business with our advertisers and be sure to tell them you heard about them on Barrington Town News. The more local businesses trust us with their advertising dollars, the more resources we'll have to provide better news content, hire more staff, and have more giveaways.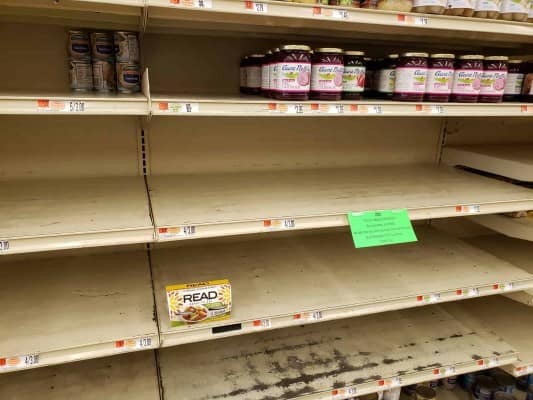 Empty Shelves at Market Basket
A green sign requesting limiting purchases to 4 items per customer was posted.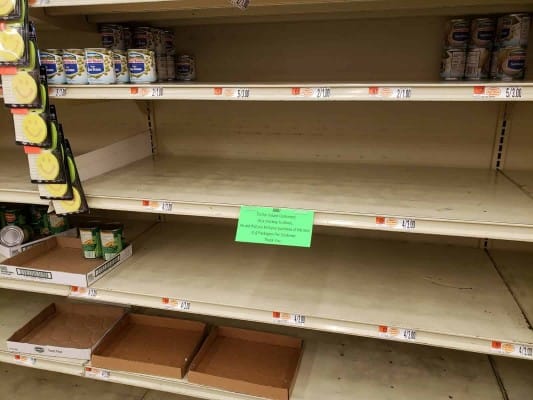 Empty Shelves at Market Basket
Canned goods were especially popular to customers.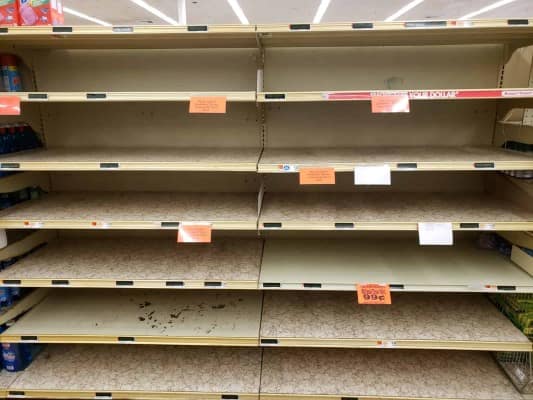 Empty Shelves at Market Basket
Orange out of stock signs were posted in this aisle.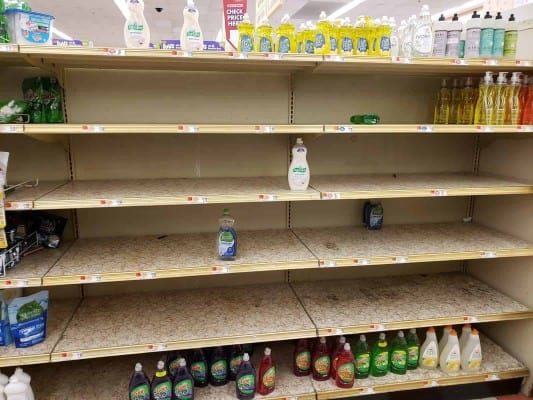 Empty Shelves at Market Basket
Dish soap was nearly all gone.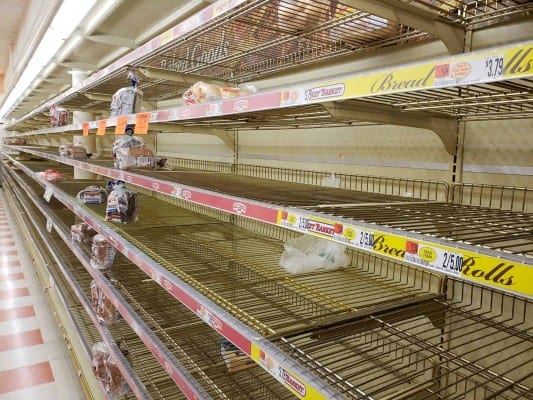 Empty Shelves at Market Basket
Bread was nearly all gone, except for a few loaves of Rye.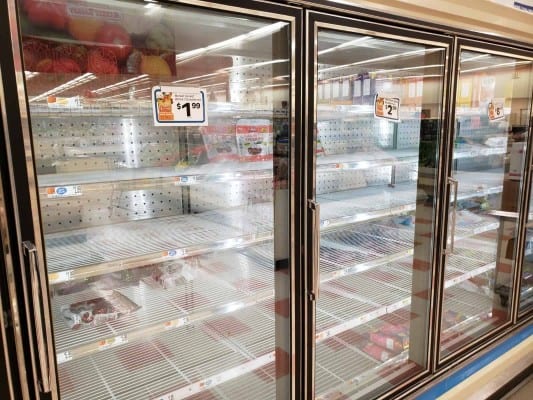 Empty Shelves at Market Basket
Frozen fruit was nearly all gone.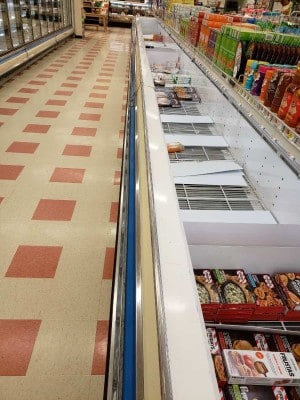 Empty Shelves at Market Basket
Frozen pizzas were almost all gone.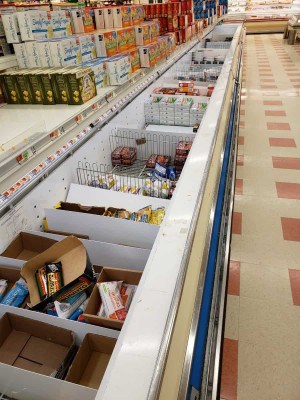 Empty Shelves at Market Basket
Frozen meals were disappearing from the frozen foods section.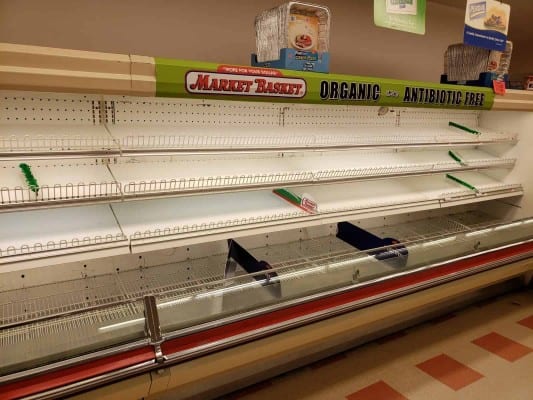 Empty Shelves at Market Basket
Fresh chicken, including Organic chicken, was all gone.