Rouillard was among 5 WSU student artists accepted to be featured in the prestigious exhibition, competition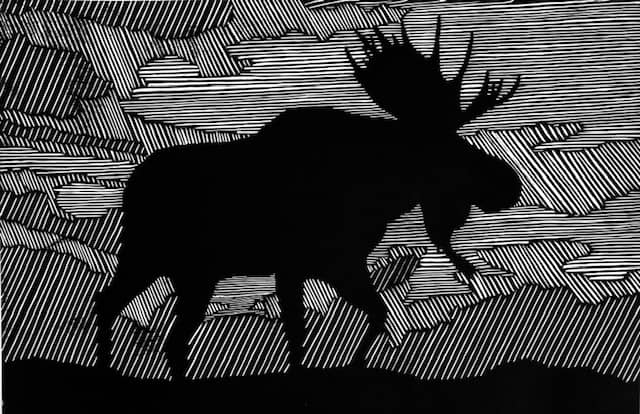 WORCESTER, MA – Worcester State University's Visual and Performing Arts Department has announced that '19 WSU graduate Megan Rouillard, a native of Barrington, NH, has been selected for participation in the 11th annual Boston Printmakers Student Print Exhibition, a prestigious exhibition and competition featuring some of New England's most creative student artists.
Rouillard, who majored in Biology at WSU, was one of 5 students in WSU Studio Art Professor Amaryllis Siniossoglou's printmaking class who represented WSU in the recent show. Rouillard is presently a Ph.D. candidate at UConn Health, she said.
"My piece was inspired by the native wildlife of New Hampshire being impacted by climate change," Rouillard said.
"WSU's Visual and Performing Arts Department congratulates Megan, her fellow WSU students and all of the New England artists whose works of art were featured in the 11th annual Boston Printmakers Student Print Exhibition," said Siniossoglou. "Each of our students' pieces reflects their hard work, creativity, and vision. We're honored to be part of the Boston Printmakers tradition again this year as it continues to recognize inspiring, rising artists."
Rouillard's piece was one of 132 prints by artists representing 17 colleges and universities. The Boston Printmakers is an international association of artists founded 72 years ago by a group of printmaking students and teachers to educate the public about fine art printmaking and provide opportunities to exhibit original prints. According to The Boston Printmakers, for many students, it is their first time showing their prints in a professional setting. For more information on the organization, please visit www.bostonprintmakers.org.
About the Worcester State Visual and Performing Arts Department
The Worcester State Visual and Performing Arts Department offers an interdisciplinary, student-centered, artistic education that prepares students for professional lives in the arts. Its educational spaces encompass the Fuller Theater, practice rooms for music, and art studios at the University's Sagamore Studios. VPA students gain in-depth knowledge of their preferred art form -- art, music, or theatre – plus an understanding of what the arts have in common, and how they are performed and exhibited in the real world. Learn more at www.worcester.edu/VPA or connect with VPA on social media: Facebook/VPAatWorcesterState, Twitter and Instagram @WSUVPA. Follow our blog, The Artful Lancer, at WSUVPA.wordpress.com or subscribe to our YouTube channel, search WSU VPA.