The owners of Esther Sawyer, CPA LLC, Esther and Chris Sawyer, are a pair of rising leaders in our community. Three terms come to mind when thinking of the Sawyers – Partnership, Integrity, and Giving Back. They started the business 20 years ago in Maryland, but 2 years ago when Chris retired from his job, they moved to New Hampshire and the business moved with them.
In Maryland where they both had great careers in the finance area, Esther worked for a private CPA firm and as a DC Government Auditor. This provides Esther with a detailed knowledge of the bookkeeping and auditing part of the business. Her Tax Preparation background started when she was in school to become a CPA. When she was doing a project on rental property tax returns for class, one of her cousins offered to give her a chance to practice on his taxes and from that, a home-based business was born.
Meanwhile, Chris worked for the IRS in many different areas including customer service, tax collection as a Revenue Officer, and in their Headquarters as an Analyst. Because of his job, he understands the ins and outs of all the codes and uses that knowledge now to help others with tax issues. When they first started their business Esther ran it, because getting paid to file tax returns would be a conflict of interest for Chris. However, Esther had a built-in advisor, so complex issues would be dealt with as a team effort – with Chris providing the resources and guidelines for problems that were tax-related. Throughout the years, while they both worked full-time jobs, Esther built up a clientele working the tax business part-time while Chris kept the household work done – sharing the raising of their child Xena.
Of the two, they have realms of expertise that they provide as services in and for their company. Chris - the reference guy, collections issues, and business startup consulting for their clients. He also is more technologically savvy so he helped build their website, manages their SEO and handles any internal computer issues they may have. Esther handles Auditing, Accounting and most of the complex tax preparation work. They also use their business to teach their daughter (who is now 16 and working on her dream of becoming a doctor), how to organize and manage a business.
Their first client in New Hampshire had over 12,000 dollars in taxes in arrears and penalties and was going to have to pay that amount because he had received some misinformation from his original CPA. Chris did the research and wrote a letter to the NH Dept of Revenue requesting a reasonable cause penalty abatement. Then he just billed the client for the time taken to write the letter – because he was unsure of the result. The client was so happy just about the letter that he gave them a tip for helping out. The gentleman received a letter within six weeks that his penalty abatement request was approved in full.
Because of their interests in helping their community, the couple is active and involved in several activities and groups in the area. Chris is a Navy veteran, so both give back by being active in the American Legion. Chris is the Finance Officer, and Esther is the president of the American Legion Auxiliary. The couple is also active in their church, engaged in local fundraising events, and even work with the homeless and those in recovery.
They also give back by providing free tax services (on a limited basis depending on need), offering friends and family discount, and a 20% discount for First Responders and Veterans. Give them a call for any tax-related questions.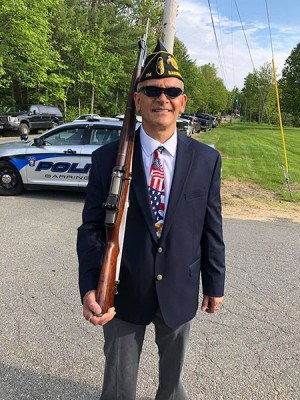 Chris Sawyer
Chris Sawyer, Finance Officer for Barrington Post 114 American Legion, Getting ready to participate in the Color Guard, marching in the 2019 Memorial Day Parade in Barrington (May 27, 2019)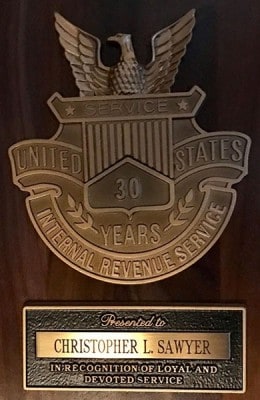 IRS Plaque
IRS Plaque for 30 years service for Chris Sawyer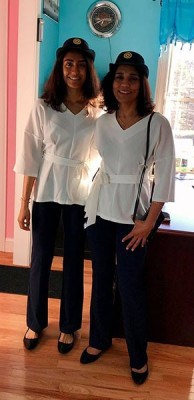 Esther Sawyer and Daughter
Xena and Esther Sawyer, Left to Right, (Xena is our daughter), in American Legion Auxiliary Uniform. Xena is the Auxiliary Assistant Secretary and Esther is President.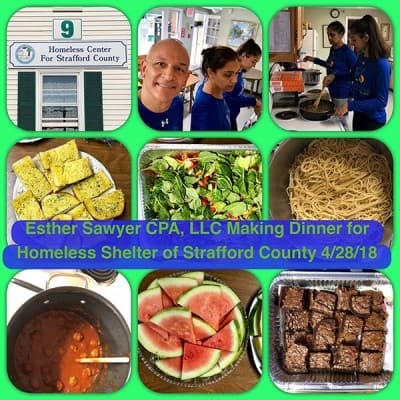 Cooking Dinner at HCSC 4-28-2018
Esther Sawyer CPA, LLC Making Dinner for Homeless Shelter of Strafford County 4/28/2018