It's 28 degrees outside on a December morning and a group of 4-8-year-olds and their teachers are walking through the woods with their backpacks, to spend the morning in unrestricted free play. This "Little Wild Ones" group is one of several offered by the innovative Timbernook program, headquartered in Barrington.
"We have to go over that bridge. I think it has ice on it. I'm going to check," says Eric*, age 5, running ahead.
"Don't go in the water," Mikayla*, age 7, reminds me as we head across the bridge. This was a rule discussed at circle time.
We are heading for a blue tarp where 20 kids and four teachers are gathering to take off their backpacks and have a snack before they begin the unstructured free play which is the hallmark of the Timbernook program.
"Last time there was a stream and I followed it," Caroline*, age 8, tells Kellie Barr Foster, "but I did not go in the water."Kellie, the lead teacher for the program, tells me that the play is different every day. "We do a song and a story to inspire them. Then the kids have a good hour and a half of free play. The adults keep a low profile – we often get down on the ground to be as invisible as possible.We try to be interesting and fun during the storytime, but boring during free play."
The goal of the program is to help kids develop their own ideas for play and to work out problems on their own without adults telling them what to do."We've been talking a lot about executive functioning," Kellie tells me."Kids are losing it.Kids at nineteen are supposed to be able to make all these decisions, but they have never developed the executive functioning because they've never had the freedom to make their own decisions. So we are trying to back it up to the time when kids should be developing these skills."
Timbernook began as a summer camp developed by Barrington-based pediatric occupational therapist Angela Hanscom. "In order to empower children, we need to give them freedom," Hanscom says. She has been an outspoken proponent of unrestricted outdoor play for kids for more than 10 years, noting that kids need this type of play for healthy development.
"We create a 'Yes' environment. We remove as many hazards as possible – things like bees' nests, glass, weak limbs. We remove the hazards, but not the risks." Hanscom notes that kids might choose to take a risk like jumping off a rock or climbing a tree. "Kids naturally regulate what risks they are ready for," she explains. She points to research which suggests that removing risks from kids' play areas restricts healthy development.Even a simple activity like picking up sticks can inspire creativity when the child decides what to do or build with it. Picking up heavy sticks can help kids develop their senses.
Hanscom is the author of the book Balanced and Barefoot: How unrestricted outdoor play makes for strong, confident children and a recipient of the Glamour Magazine Hometown Hero Award. Since she began her year-round program in Barrington in 2013, the Timbernook model has spread around the world. There are now over 60 Timbernook-certified programs from California to New Zealand.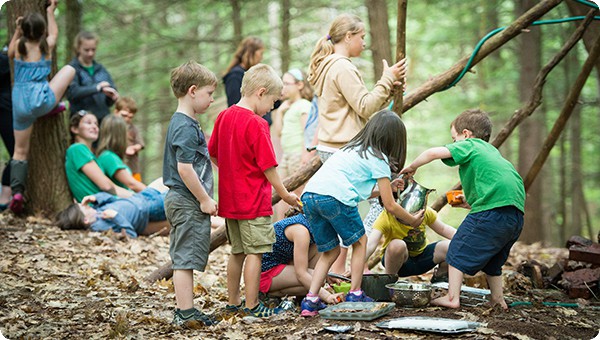 Hanscom explains that recent research suggests that most children today have an underdeveloped vestibular system.She explains that the vestibular system helps kids develop balance and regulate sensory input. "It helps you to know where your body is in space," she says. In a pilot study which Hanscom conducted in a local school, she found only one out of every 12 children could meet the balance and core strength standardized averages of children from 1984. "In the medical world, one of the important things you are taught is to do no harm. We are at the point of doing harm to our children by over-restricting them," she explains.
When free play begins, Eric* immediately begins hauling tires down to the marshy area. "He's our engineer," Kellie says. "He likes to build things." Pretty soon other kids are joining in, hauling tires and boards down to the water to help create a bridge. Several kids gather around making suggestions, bringing more supplies and helping to create the bridge.A line forms to go across.
"It's not ready. It's not ready!" the first boy across warns everyone, as he runs off in search of one more board to help shore up the bridge.
A few boys lose interest and run off with sticks to play a superhero. Kellie watches as the sticks turn into swords. "So, I'm watching this to see if I need to say something. We have a rule – sticks go on sticks but sticks don't go on bodies." As it turns out the boys change direction and run off into another area of the woods. "They help make the rules, so when I do have to call them out on it, they tend to say 'Oh, yeah. I remember that.'"
For the most part, the kids ignore the adults who are scattered around through the woods, keeping an eye out as the play develops.Occasionally a child will come to an adult to ask a question, but mostly they figure it out themselves or with the help of another child.
Hanscom notes that kids need at least a few hours of unrestricted outdoor play each day to develop proper balance, coordination, and executive functioning skills, among other things. Unfortunately, many kids have little time for unrestricted play, and this takes a toll on their ability to sit still and pay attention in school. That is one reason that Timbernook launched a school program this February.So far, 6 schools have become Timbernook-certified, with more currently working through the process.
Teachers spend a week at the Barrington facility to see the program in action and learn how to set it up at their own location.Timbernook staff also visit the school to help them design the environment for their outdoor program which can happen once a week or more."We even help them design extension activities to use when they get back into the classroom. So if they are working on a giant marble run outside, they can go back inside and talk about the physics of it or have some STEM activities around that," Hanscom explains.Timbernook staff even help with designing the curriculum to meet the school's learning standards.
Back at the "Little Wild Ones" class, a line of kids are backed up, waiting to cross the bridge. They chant, "Go Gavyn. Go Gavyn. Go Gavyn," to the youngest member of the group, who is at the front of the line, trying to determine if this risk is the one he is ready for.
*Children's names are changed to protect their privacy.
Timbernook runs year-round programs in Barrington for ages 18 mos. to 14 years of age.