This article contains information from the Conservation Commission regarding the Barrington Trails Committee.
The Barrington Trails Committee will be hiking the Newhall Easement and introducing the concept of Shinrin-yoku, a Japanese term that means "taking in the forest atmosphere" or "forest bathing". Join them to explore some of the benefits of immersion into Barrington's natural beauty, during a moderate hike that includes rolling terrain.
The trail hike will be 1.5 miles long, lasting 1.5 to 2 hours on Saturday, September 14th from 9:30 a.m. to 11:30 a.m. The high points have lovely views of a marsh with beaver lodges, a creek, and ample forest land. Hiking boots and poles are recommended; however, no bathing suits are required.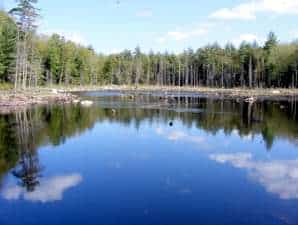 Directions: The east entrance to the Newhall Conservation Area is at the intersection of Merry Hill Rd and Partridge Lane. Please park on the right side of Partridge Ln.
Google Maps: 2 Partridge Ln, Barrington NH 03825
The Barrington Trails Committee recommends that you dress for the weather, bring water, and leave your pets at home. If you have any questions, please contact Jack at (978) 996-3064. To see the trail map, visit: http://www.barringtonconcom.org/Newhall_Easement_Trail_Map.html
These informal hikes are offered on the 2nd Saturday of most months. For information on where and when each hike is, check the Conservation Commission's web page at www.barringtonconcom.org or the posting on the Commission's or Barrington Connections Facebook page, or you can receive emails about future hikes.
To get on an email list about future hikes in Barrington, or to be removed from the list, please contact Marika at This email address is being protected from spambots. You need JavaScript enabled to view it..
For Nature Related events, see the Barrington Public Library's website calendar: http://www.barringtonlibrary.com/eventsreg.asp