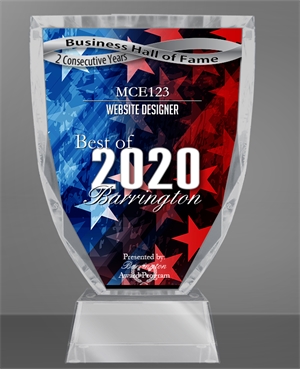 Barrington, NH -- MCE123 has been selected for the 2020 Best of Barrington Award in the Website Designer category by the Barrington Award Program.
Each year, the Barrington Award Program identifies companies that we believe have achieved exceptional marketing success in their local community and business category. These are local companies that enhance the positive image of small business through service to their customers and our community. These exceptional companies help make the Barrington area a great place to live, work and play.
Various sources of information were gathered and analyzed to choose the winners in each category. The 2020 Barrington Award Program focuses on quality, not quantity. Winners are determined based on the information gathered both internally by the Barrington Award Program and data provided by third parties.
The Company Founder and Chief Technology Officer of MCE123, Patrick R. McElhiney, said "This is a great honor to be selected as the best website designer in Barrington for two years in a row now!" He added, "I know this award is because of the tireless work we have been doing with Barrington Town News for the past 10 months – it's the only website we've been working on."
"When I am working on Barrington Town News, I am not thinking about winning awards – I want a formal way for people living and visiting the town of Barrington to communicate and receive factual content that also serves the purpose of promoting local businesses," said McElhiney.
McElhiney conveyed that he is currently working on the next version of this website, which will be for the purpose of placing a local news website in every town and city across America. He says building something that scales up to hundreds of millions of potential users is a completely different type of website design that requires years of planning, and even many more years of website development.
McElhiney would not say when he thinks the new website will be online, however he did say that Barrington Town News is like a blueprint for the new website. He said, "You can't get into the news business if you don't have some kind of idea about how it works." He explained that with the new website, companies will be able to advertise regionally throughout the Seacoast and beyond.
With this platform existing news companies will be provided with valuable tools that they can use to increase their subscription bases and viewers, sell advertising, and the site will be friendly to advertising and marketing firms, on a scale that existing companies won't be able to touch without using the platform.
About Barrington Award Program
The Barrington Award Program is an annual awards program honoring the achievements and accomplishments of local businesses throughout the Barrington area. Recognition is given to those companies that have shown the ability to use their best practices and implemented programs to generate competitive advantages and long-term value.
The Barrington Award Program was established to recognize the best of local businesses in our community. Our organization works exclusively with local business owners, trade groups, professional associations and other business advertising and marketing groups. Our mission is to recognize the small business community's contributions to the U.S. economy.
For more information about the Barrington Award Program, you can email or go to the website at http://www.town-best-ofinformation-2020.com