SafeWise released its sixth annual Safest Cities report. Here are the 20 Safest Cities in New Hampshire for 2020. See the full list.
Danville
Sandown
Atkinson
Hollis
Windham
New Boston
Weare
Hopkinton
Durham
Hampstead
Bow
Newton
Merrimack
Barrington
Nottingham
Kingston
Brentwood
Auburn
Brookline
Stratham
New Hampshire life is a safe life. The Granite State worries less about safety on a daily basis, and its residents also experience far lower incidents of crime. This year's safest cities in New Hampshire are prime examples of communities that work together to keep crime off the streets.
The majority of respondents to our 2020 State of Safety survey indicated they don't spend much time worrying about safety issues—just 39% said that they are highly concerned about safety every day. That's seven-point below the nationwide average of 46%.
New Hampshire's lack of high concern for safety may be attributed to its low crime rates and limited reports of personal experience with crime. The Granite State's violent crime rate of 1.7 is two points below the national average of 3.7 incidents per 1,000.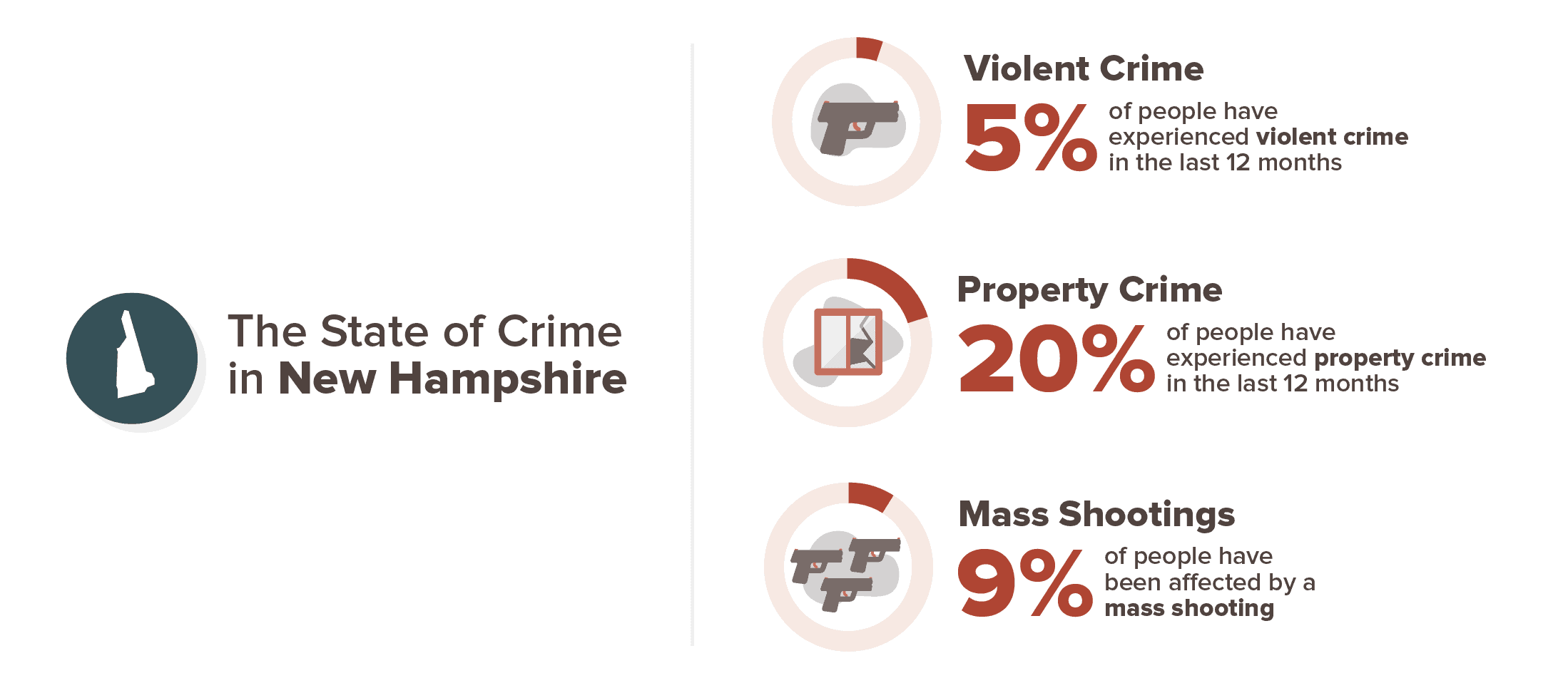 The state has nearly 10 fewer incidents of property crime per 1,000 people than most of the country. Boasting a property crime rate of 12.5, New Hampshire is well below the national rate of 22.0.

Survey participants also revealed that they had less personal experience with a crime over the past 12 months than much of the nation. Only 5% reported a run-in with violent crime (12% nationwide) and 20% said they'd experienced a property crime (26% nationwide).
Violent Crime in New Hampshire: Fear vs. Reality
Those who do worry about safety are most concerned about a physical assault by a stranger. That's also the property crime that New Hampshire residents feel is the most likely to happen.
Just 5% experienced a violent crime in the past 12 months, compared to 12% nationally.
43% named physical assault by a stranger as the violent crime that causes the most concern. That's a bit higher than the national average of 40%.

27% think that they're most likely to fall victim to a physical assault by a stranger.
Aggravated assault was the most reported violent crime in the Granite State, accounting for 51% of all violent crime reported by the safest cities and 61% across the state.
Being the victim of a mass shooting was the second most concerning safety issue.
Between 2014 and 2018 there were no mass shooting incidents in New Hampshire, but across the country, there were 2,087.
9% of New Hampshire respondents reported that they or someone they know has been affected by a mass shooting. That's two points higher than the national average of 7%.
Property Crime in New Hampshire: Fear vs. Reality
New Hampshire's most concerning property crime is a break-in when there's no one at home. But when it comes to which crime they think is most likely to actually happen, it's digital property theft that keeps them up at night.

20% experienced a property crime in the past 12 months, versus 26% nationwide.
59% showed the highest concern about a break-in when the residents are out. Across the country, 62% named it their top fear.
Burglary made up 13% of all property crime in the safest cities and 11% across the state.
There were only 94 burglaries reported among the 20 safest cities.
Larceny-theft was the most common property crime in New Hampshire, claiming 84% of all incidents statewide and 80% of all property crime in the safest cities.

41% said they feel most at risk of falling victim to digital property theft. That's higher than the nationwide average of 36%.
Last year digital security was the most concerning safety issue for New Hampshire.
28% of New Hampshire respondents had a home security system, compared to 24% nationally.
Security systems are the most used security method in New Hampshire, followed by 27% who use security cameras (25% nationwide).
28% don't employ any security measure to protect their home, compared to 29% across the country.