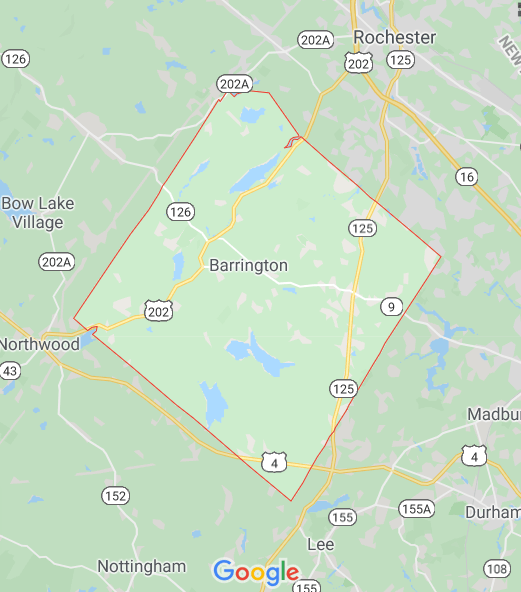 If you look at a Map of Barrington, NHyou will see that it is pretty much the shape of a baseball diamond.It is bordered by Rochester, Bow Lake Village, Northwood, Nottingham, Lee, and Madbury.Major roadways are NH Route 125 (Calef's Highway), NH Route 9/US Route 202 (Franklin Pierce Highway), US Route 4, NH Route 126, and a smidge of 202A.Barrington also has easy access to NH Route 16 which intersects with Highway 95.
There are plenty of places to fish and encounter wildlife with 1.9 square miles of inland water in the 46 .7 square miles of land.For the type of fish found in the ponds, click here.
The Town was founded in 1722 and as of 2017 there were 9049 people.
With ways and means, and highways and byways – Barrington is full of places to explore and discover.From a map count, there are at least 14 bodies of water and 17 areas of conserved land open to the public.There is also a cozy local shopping area on the corner of Routes 9 and 125.Many other local businesses are situated on Route 125, including a movie theater.Route 202 is mainly residential, but it is zoned mixed commercial so you will find businesses scattered between homes and woodlands.
There are regular town services, a police station and fire station on Route 9, baseball fields and the town transfer station are on Smoke St., right off of route 9, several churches, and a library.
At last count, our business directory had over 300 businesses found in Barrington as well, including restaurants, stores, and home décor.If you are interested in the businesses the Town of Barrington, check out our business directory!