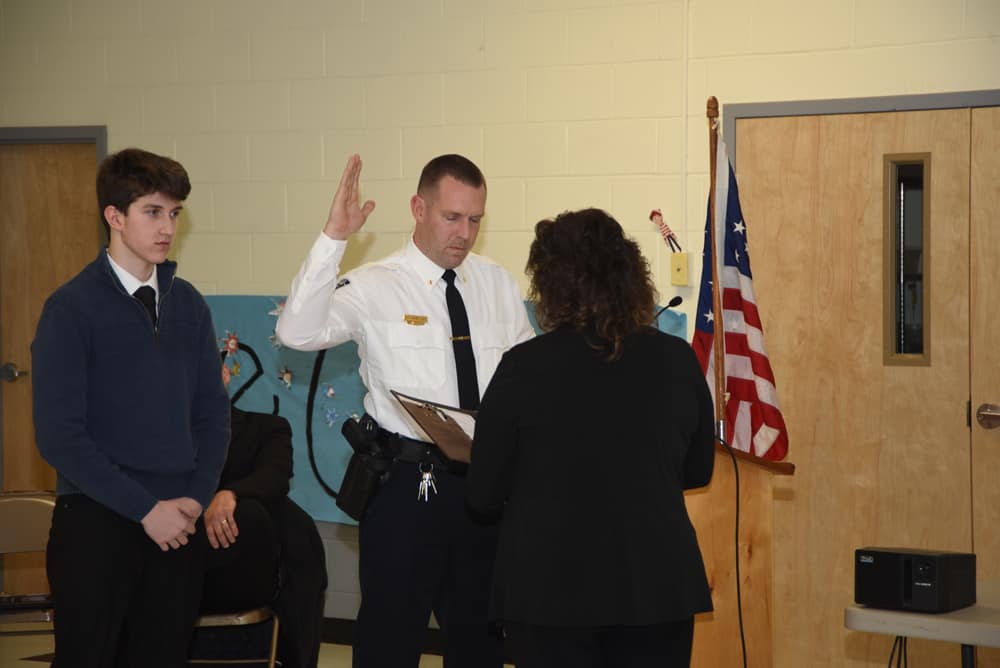 On December 16th, Barrington's new Police Chief, George Joy, was sworn in at a Select Board Meeting. Joy, a 20-year veteran of the force is the former Deputy Chief, but most Barrington residents will recognize him as the K-9 officer in Barrington. Joy has been Barrington's K-9 officer since 2003, a role he has relished.He is the handler for the Barrington Police Department's current K-9, Gipsy, who will retire from this role and become a house pet. "She'll have a hard time with that," Joy says. "She likes to work." However, since Gipsy is bonded to him as her handler, Joy plans to purchase the dog from the department.Joy notes that this is not the end of Barrington's K-9 program.
Joy feels strongly about continuing community policing efforts, and the K-9 can be an important bridge in this work. "We often have police officers there at the beginning of the day, greeting kids as they come to school. Some kids' families, unfortunately, teach them not to like the police. The dog can be a bridge to reach those kids," Joy explains. The Barrington police also participate in other community events including scouting programs, PTO programs and DARE classes for 5th graders in Barrington.
Joy notes that when he started in the Barrington Police Department 20 years ago, it was a very different place."We had six officers and it was an on-call department. There wasn't time to do the extra things that we do now." The current police force has a full-time 24-hour program with 12 officers, including the chief.
"Barrington is not the small rural community that it used to be and that some people still think of it as," Joy says. "There's been a lot of change town-wide. I always caution people to lock their cars and lock their houses." Joy explains that thefts are often crimes of opportunity. Recently, Joy says, the town has been fortunate not to have had the rash of thefts from vehicles or home break-ins that have sometimes occurred in past years. However, he encourages residents to be vigilant.
If there is one message Joy wants Barrington residents to know, it is to contact the police if you have concerns."People often hesitate to call us because they're afraid they are going to bother us. But if you see something that's out of place, we want to hear from you. A lady who stays home with children may notice unusual activity or a car that is unfamiliar. It bears looking into," Joy says. "Chief Williams had a saying that I really believe in. 'If you see something, say something and we're going to do something.'"
One resident has expressed concern about Jessica's Law, which requires drivers to clear the snow and ice off their vehicles before driving. The law is named after Jessica Smith, a 20-year-old who was killed after ice blew off a tractor-trailer causing a fatal accident. "We're definitely out there enforcing Jessica's Law, or 'negligent driving' as the RSA is named," Joy says. "If someone sees a gross violation, and they call us at the time, an officer might be able to apprehend the person. The key for us is to identify the driver." However, Joy cautions, never use a cell phone while driving unless it is in hands-free mode or an emergency situation exists!
Another priority for Joy is to continue training the current group of Barrington officers,most of whom have only been with the force 1-2 years. "We have a very young police department," he explains. "I want to make sure they have the training that they can go anywhere and be a supervisor." That being said, Joy also wants to increase retention in Barrington."We have a really good group of young ladies and gentlemen and I'd like to keep them," Joy says.
Currently, Joy is in the process of hiring a replacement for the role of Deputy Chief, with a target start date of February 10th. "That will help me get my supervisory structure back in place," Joy explains "We have a very experienced person coming in, who will help to develop the department."
One example of this development is to get another K-9 officer in place, which requires time for training, both for the dog and the handler."We don't buy the dogs fully trained," Joy says. "They have basic obedience training, but a fully trained dog costs about $13,000 and that's just not possible for us." Joy notes that having the handler training with the dog is good for both. The hundreds of repetitions of reward-driven training strengthen the bond between dog and handler and helps the dog look forward to its work. And it is important work. "Primarily they are a location tool. Whether it's locating narcotics, explosives or people," Joy says. "They can help us find suspects who have escaped. They can also help us locate missing kids or elders who have gotten lost." Joy hopes to have a new K-9 team in place by early fall of 2020.