One of the newer upcoming ventures in the Town of Barrington is the Wildlife Encounters Ecology Center and Farm School. Founded by Derek Small, this is an expansion of the business he has been operating since 2004. He is purchasing 270 Beauty Hill Rd – allowing for the preservation of the historic 77-acre Swain family farmstead formerly known as "Highland Farm" in Barrington, NH. This part of his business is referred to as the "Ecology Center & Farm School".It is envisioned to become a science and nature-based community education center. The property transformation plan includes fundraising events, surveying, architectural design and coordination with the local and federal government regulations. The plan includes creating a licensed facility for the ambassador animals that currently are used in the business' environmental education programming.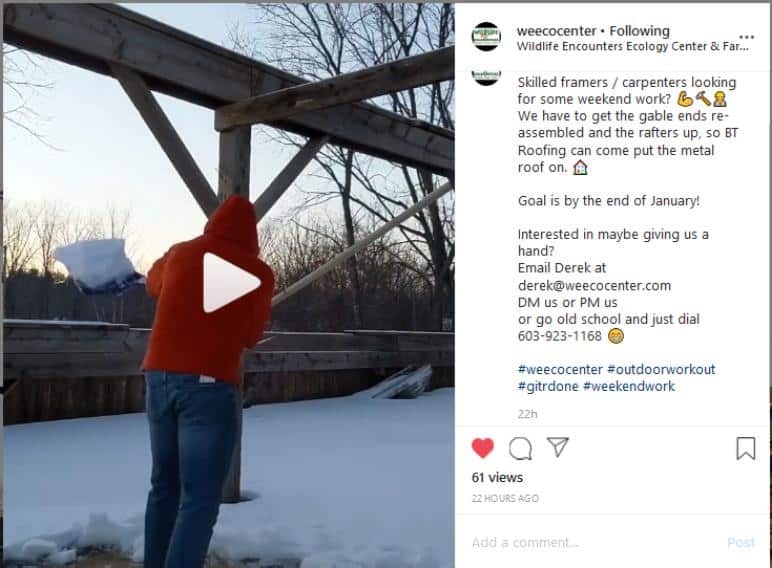 At this time, Derek and his crew are in the midst of reassembling a barn and are looking for skilled framers and carpenters to help in the project.
They are also looking for fresh Christmas trees and wreaths that the owners wish to dispose of, to feed some of the livestock. Please, no tinsel or ornaments!
All of the Ambassador animals are stored in a nearby facility, but getting the barn assembled is the first step to accomplishing the vision of the Ecological Center and Farm School. Long term goals include a working barn, a farm museum, community meeting rooms, and teaching areas – both inside and outdoors. Trails and nature paths will be set as well, making the encounters for the local community both unique and educational.
Wildlife Encounters is known throughout the Northeast for its quality educational programs. It has been voted a family favorite for 6 years in the Parenting NH Magazine and has been featured on the following tv shows: The Today Show, The Martha Stewart Show, LIVE with Kelly & Micheal, CNBC Squawk Box, Night Line, and New York Live. Derek and his educators have a passion for the animals, keeping them safe, protected and sharing them with other people. This passion extends to this new expansion.
You can follow the center and its progress on Instagram (https://www.instagram.com/weecocenter/) or on the website (http://www.weecocenter.com/). They are still booking the educational programs, as well as site visits.