December 12, 2019 [Exeter, NH] – From now until the end of the year, Patagonia Action Works will match all donations – up to $10,000 per donation – to SELT, the Southeast Land Trust of New Hampshire. Matching will continue until the end of the year or until the national $10,000,000 threshold is met.
For nearly 40 years, Patagonia has supported grassroots groups working to find solutions to the environmental crisis. But in this time of unprecedented threats, it's often hard to know the best way to get involved. That's why Patagonia is offering this opportunity to connect individuals with local Patagonia grantees (such as SELT), in order to act on the most pressing issues facing the world today.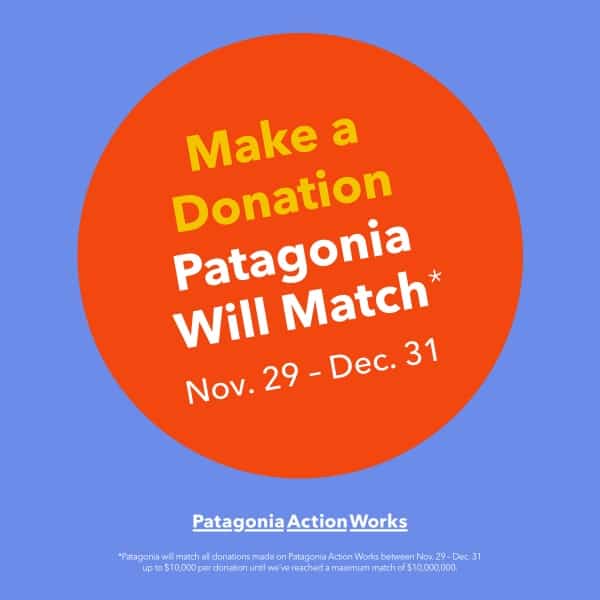 SELT became a Patagonia grantee in 2018 with the help of local Patagonia retailer, Rob Garneau of Travel & Nature in Exeter, NH. According to Rob, "SELT has become a very important part of our community. It is easy to take for granted the many trails, rivers, and nature sanctuaries that we adventure in, but thanks to SELT and those who donate to their cause, we get to enjoy the many wonders of our home. We fully believe and trust in the hard work that SELT does to protect, revive, and breathe life back into our lands that have otherwise been ignored. This is why we do what we do, to allow our community to enjoy this beautiful earth we have been given."
Brian Hart, Executive Director of SELT, shared, "We are so grateful to be selected by Patagonia for this opportunity. Through Patagonia Action Works, they aspire to connect people to the organizations in their communities who are making a difference in the environment. By providing this platform, we are hoping more people can learn about our work and make a gift to protect wildlife habitat, clean drinking water, farmland for the future, and outdoor recreation in southeastern New Hampshire."
With this dollar-for-dollar match from Patagonia, donations will be doubled: $1 becomes $2. $20 becomes $40, and $10,000 becomes $20,000. Gifts of any size will have a huge impact and help SELT save, share, and steward lands you love in southeastern New Hampshire.
"This is a wonderful opportunity to give the gift of giving," said Beverly Shadley, SELT's Deputy Director. She continued, "For people who are looking to reframe their holiday gift-giving to focus less on stuff and more on experiences and impact, making a donation in someone's honor for a special cause – like SELT – is a really wonderful way to show someone you care."
To make a gift to SELT that will be matched by Patagonia Action Works, please visit seltnh.org/donate. Donations made through the Patagonia Action Works page will be securely processed by Network for Good. Patagonia will cover processing fees so that SELT will get the entire donation and the entire matching amount. No product purchase is required to donate.