The 12th Annual Pease 'n Carrots food drive has kicked off this year with some amazing goals to help feed the food insecure in the Seacoast area. For 2019, in partnership with Gather, the Pease 'n Carrots team has a goal of 50 Pease Trade port Businesses participating, $50,000 in monetary donations, and 2,500 pounds of non-perishable food donated during the time frame of 11/18/2019 – 12/20/2019. The food and donations go directly to the food pantry – Gather, New Hampshire's oldest charity is based in Portsmouth NH and is part of the Food Provider Network and, as such, gladly shares its bounty with 16 other area pantries.
Founded in 2007 by Mark Sullivan, of Seacoast Asset Management, the food drive has grown each year. In that year, Mark was a participant in the Leadership Seacoast program. While attending the courses, they took a tour of Cross Roads House homeless shelter in Portsmouth to learn what it would be like to be homeless and unemployed. Mark's takeaway "There are a lot of invisible people in dire straits, right here in the Seacoast. They may be invisible intentionally, out of pride or because of the legal system, but they still need help. It was a need I didn't know existed." They may be out of sight but the less fortunate among us are everywhere and really need our help. "It was a population I didn't even realize existed".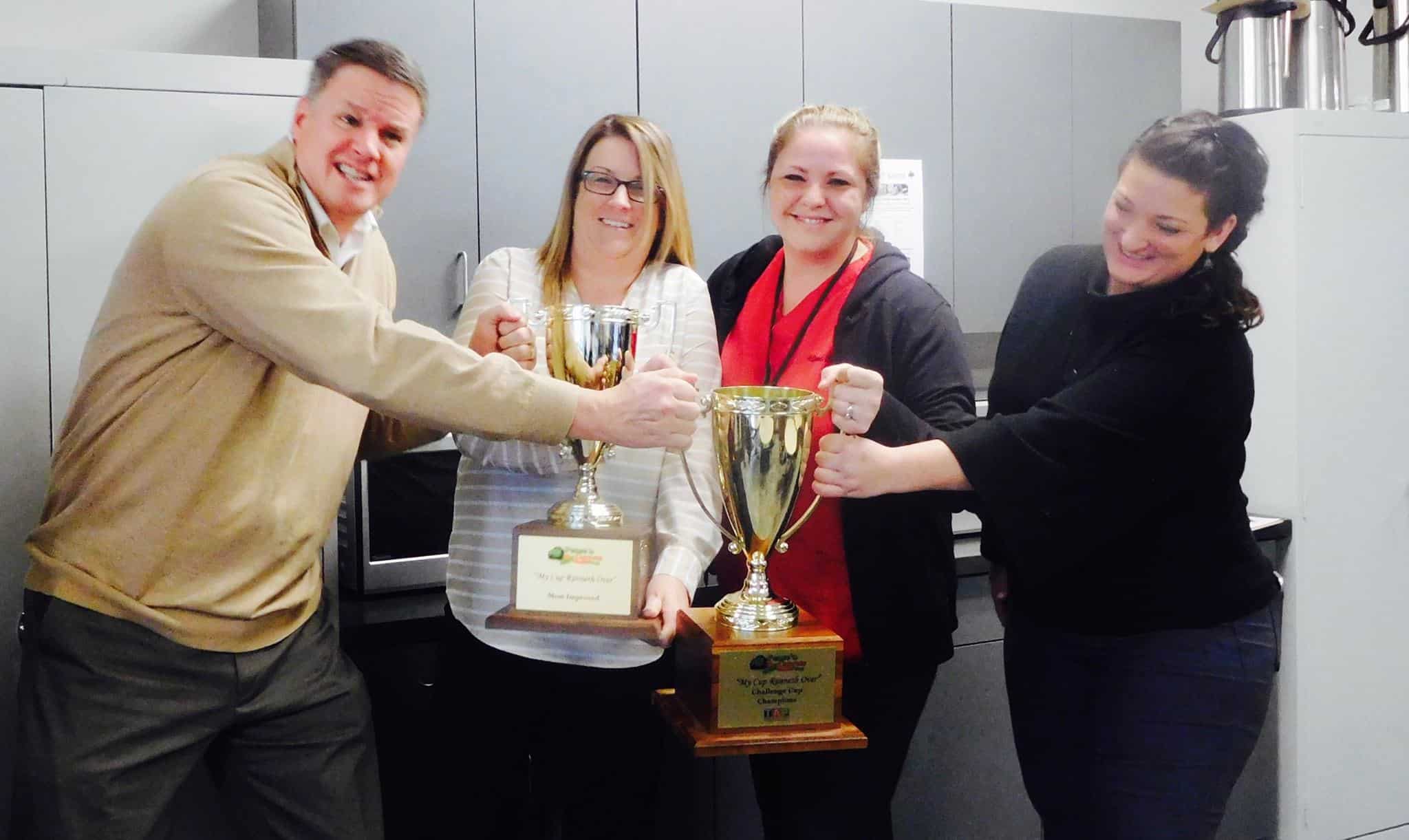 Mark had previously started a softball league with others on the board of the Tenants Association at Pease Tradeport earlier and had noted that the situation there was different than most locales. The Tradeport is a world-class business park that is conveniently situated, remarkably well-kept and totally secure, and permeated by a real sense of camaraderie and an esprit de corps that may be unrivaled in our state.
Many of the businesses that participate in Pease 'n Carrots bring that friendly competitiveness to the table. One such company donated pallets of green beans – because they weighed the most per can – and at the time the "My Cup Runneth Over" Trophy recognition was given for the most pounds of food donated. Now the rating system is based upon the most frequently recurring needs –but the friendly competition is still there.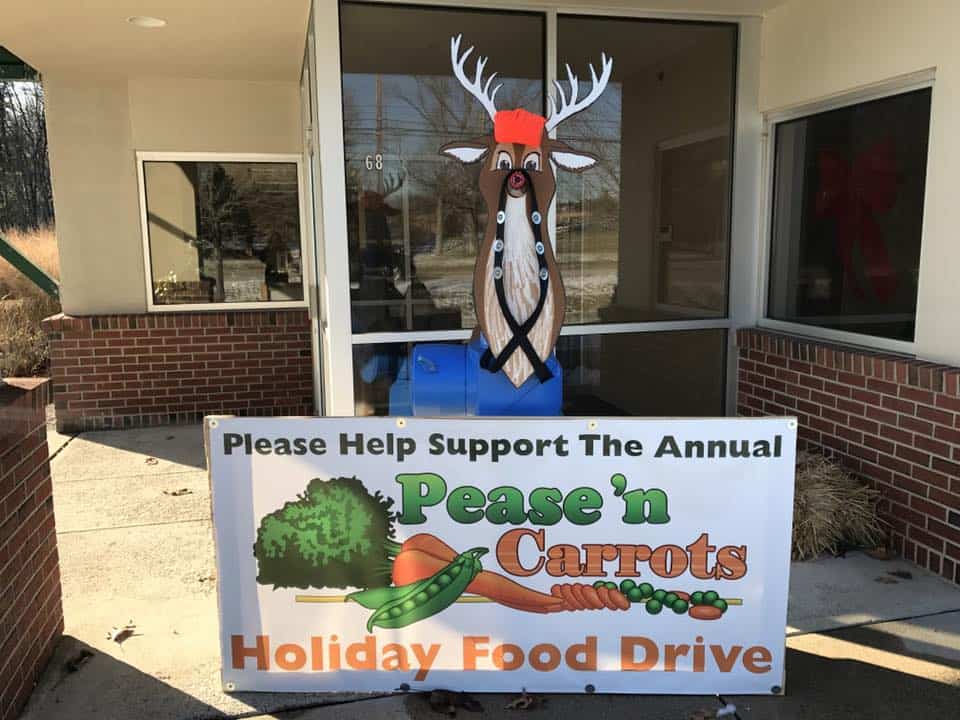 The grand goals of the Pease 'n Carrots food drive are three-pronged:
No one should be hungry on the holidays – every person on the Seacoast, regardless of means, should have food throughout the holiday season, and beyond.
To teach our children, and our children's children how to give back joyfully – "It reminds you of how much you have when you give back" Mark Sullivan
To get the entire community working together, to have every company on the Trade Port participating in this user-friendly initiative.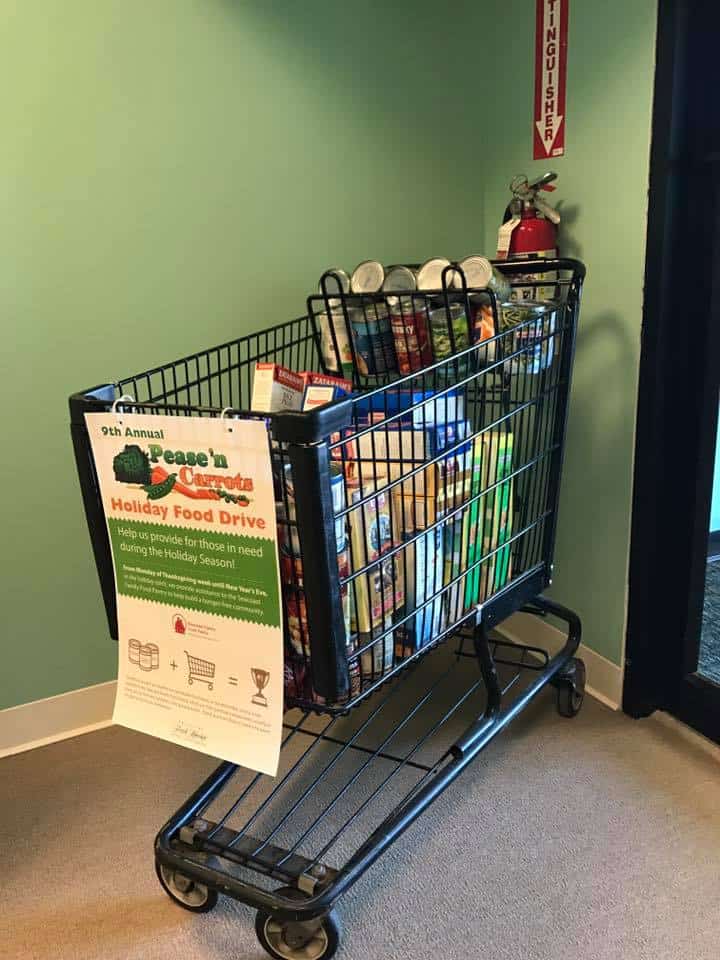 What You Can Do for this Food Drive: The Pease 'n Carrots Food Drive is happening 11/18 through the Friday before Christmas: 12/20/2019.We are looking for non-perishable food donations or monetary donations.Make your check out to Gather, which will be using the monetary donations to fill in the gaps of the usual pantry items with fresh healthy foods.You can donate by patronizing one of the many fine Pease Tradeport restaurants including Grill 28, Green Bean, Paddy's American Grille, Cisco Brewers (formerly Redhook), or Belle Peppers. You can make a monetary donation directly at This email address is being protected from spambots. You need JavaScript enabled to view it..
What you can do throughout the year:Non-perishable healthy food donations can be made at
Gather
210 West Road #3
Portsmouth, NH 03801
You can make a monetary donation directly to Gather on their website.
If You Need Help:Gather has an open pantry day on Fridays from 9am to 1pm, bring your photo id and proof.You can also apply for the program online, and if you have a food-based emergency you can come one time, no questions asked.