Join SELT for a celebration and guided walks on the new trail network in Barrington, NH.
Photographs by Jerry Monkman/EcoPhotography - www.ecophotography.com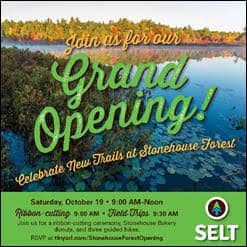 October 3, 2019 – Hidden in the canopy of rural Barrington lies the Stonehouse Forest. This special place was purchased from a European investor in 2017 and protected forever by SELT with support from generous community members and funding partners. This expansive landscape supports vibrant wildlife, free-flowing streams, ponds, and 11 miles of trails. Now, after two years of work, Stonehouse Forest is ready for the public to explore.
Please join us for the grand opening of Stonehouse Forest on October 19, 2019. Following refreshments and a ribbon-cutting ceremony at 9:00 AM, hikes will begin at 9:30 AM showcasing the natural beauty of the forest and artifacts of our past. RSVP in advance to secure a spot on the hike of your choice:
Archaeology of Stonehouse Forest
Join Jake Tumelaire, a local archaeologist, and learn about the fascinating history of Pre-Contact Stonehouse Forest in Barrington. Jake will teach us about the natural resources of the area and what likely drew Pre-Contact Native Americans to this beautiful but rugged landscape. We will also visit and learn about the Marison Farmstead. The walk will stick to the trails and is rated as easy.
Explore the New Trails
Come see what we've been up to at the Stonehouse Forest! Join Duane Hyde (SELT's Land Conservation Director) and John Wallace (Barrington Conservation Commission Chair) on a hike to explore the new trail system! The walk will stick to the trails and is rated as moderate.
Black Gum Swamp and Stonehouse Pond Ledge Hike
Join Phil Auger and Parker Schuerman (SELT's Land Managers) for a hardy walk to the Black Gum Swamp. There you'll learn about the black gum tree (also called black tupelo) - these trees are some of the oldest living hardwoods and a rarity in New Hampshire! After that, hike up to the ledge at Stonehouse Pond and soak in the iconic view and fall colors. This walk will include some bushwhacking and is rated as difficult.
The event is free to attend and open to the public; however, donations are encouraged ($5/person or $10/family) and advance registration is required. The deadline is Noon on Friday, October 18. Parking information and event details will be sent by email to all who register in advance. Learn more and RSVP online at tinyurl.com/StonehouseForestOpening or call 603-778-6088.
About SELT: SELT is a nonprofit land trust with a mission to protect and sustain the significant lands in our communities for clean water, fresh food, outdoor recreation, healthy forests, and wildlife. Since 1980, the Southeast Land Trust has worked in 52 communities of southeastern New Hampshire to conserve more than 20,000 acres of land through conservation agreements and ownerships. SELT is accredited by the Land Trust Accreditation Commission. For more information, visit seltnh.org.