This article contains information about the predicted 2019 apple crop and information about local Pick-Your-Own Farms.
Officials are predicting an excellent to an above-average crop of apples this year. This is great news for New Hampshire farmers - apples have generated around $200 million in revenue during high-yield years, according to the U.S. Department of Agriculture. The New England Apples non-profit reports that the arrival of cool nights in late August and early September provided great growing conditions for both color and flavor, despite a slow start. As harvest season reaches full swing in New England, the smells and feels of fall are everywhere. For many families, apple picking, sunflower bouquets, pumpkin carving, and apple cider donuts are just a few staples of the season. Supporting local farmers while partaking in these traditions is easy. Below is a list of pick-your-own (PYO) farms within a close driving distance (less than 30-minutes) from the town of Barrington: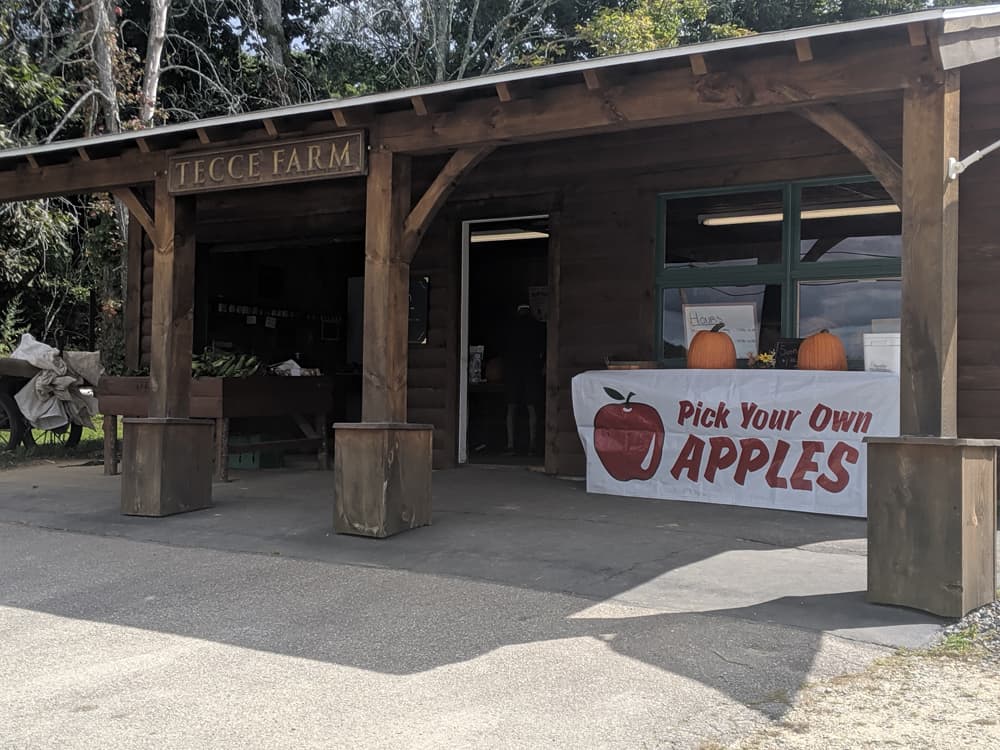 Teece's Farm, Durham
This 1903 dairy operation later evolved into a potato farm, which over time transformed into the busy farm stand that serves up fresh produce daily. Teece's is currently open for pick-your-own apples in the orchard, which grows Paula Red, Ginger Gold, Gala, Mac, Cortland, Macoun, Empire, and Honey Crisp. Also, open now is pick-your-own flowers from the incredible garden rows teeming with colors, pollinated by honey bees and bumblebees. Grab a set of clippers from the farm stand and pick a bouquet of zinnia, snapdragon, celosia, asters, and bright sunflowers. Before you leave, be sure to grab an armful of the sweetest, most flavorful corn-on-the-cob around.
Butternut Farm, Farmington
A farm in Farmington makes a lot of sense – but this one stands out from the crowd as feeling family-run and friendly. Taste a fresh-made apple cider donut, get a scoop of ice cream, and visit the friendly goats before heading into the orchard. Currently, Gold, Zestar, Macintosh, Cortland, Gala, Honey Crisp, and Daybreak Fuji are all open for pick-your-own. Finish the day with a visit to the Cider House to test their crafted-on-site hard cider - available in several boozy concoctions. At Butternut, you can also pick-your-own nectarines, tomatoes, cherries, peaches, and pumpkins in-season. The Farm recommends calling to hear the daily picking condition update at 603-335-4705.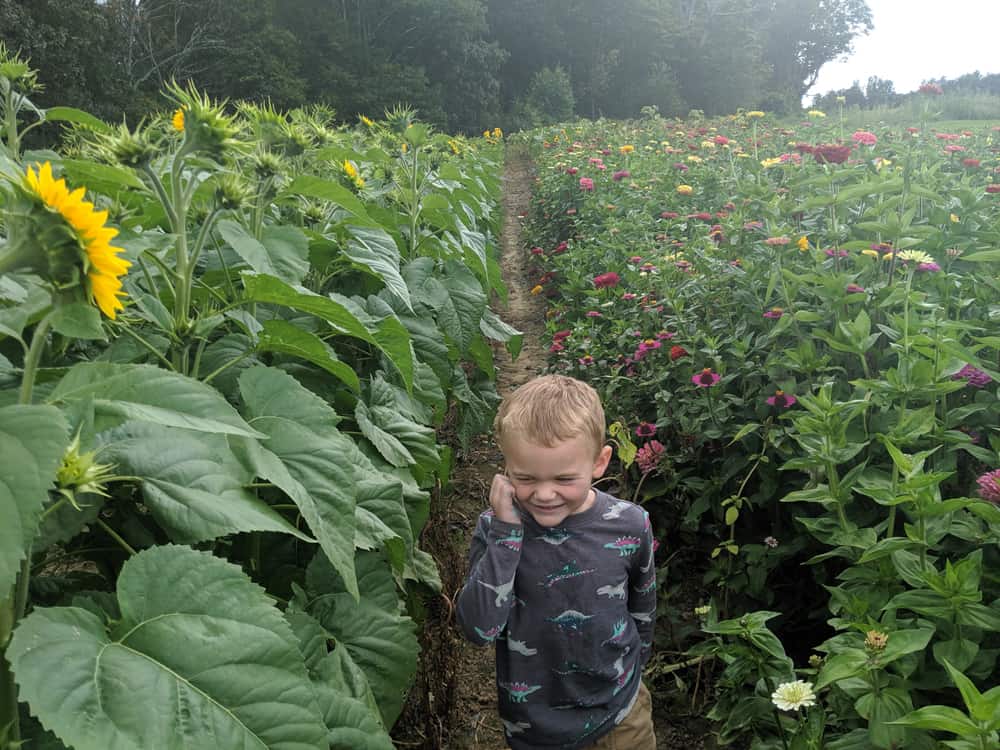 AppleView Orchard, Pittsfield
Located just off Route 28, this convenient location grows 14 varieties of apples – ranging from the well-known favorites to a few you may not be familiar with yet. If you're unsure which apples to pick, don't worry! Their Country Shoppe offers free samples of various apple varieties, as well as fresh-pressed cider, freshly baked apple crisp and apple fritters. This farm offers a petting zoo and an area to have a picnic lunch, making it family-friendly for all ages. Treat the kids (and yourself) to a scoop of gourmet ice cream in a freshly-baked waffle cone, and it's a perfect fall day!
DeMeritt Hill Farm, Lee
DeMerrit Hill staff report great picking for Macs and Cortland apples right now. Additional apple varieties are available pre-picked in store, including Paula Reds, Honeycrisps, and Zestars. Apple cider is available in the Farm store in half or whole gallons, according to its website. This weekend (September 28th and 29th) is the farm's harvest celebration, hosting face painting, pumpkin painting, bobbing for apples, and samples from their on-site bakery. By the beginning of October, their patches will be open for pick-your-own pumpkins, too!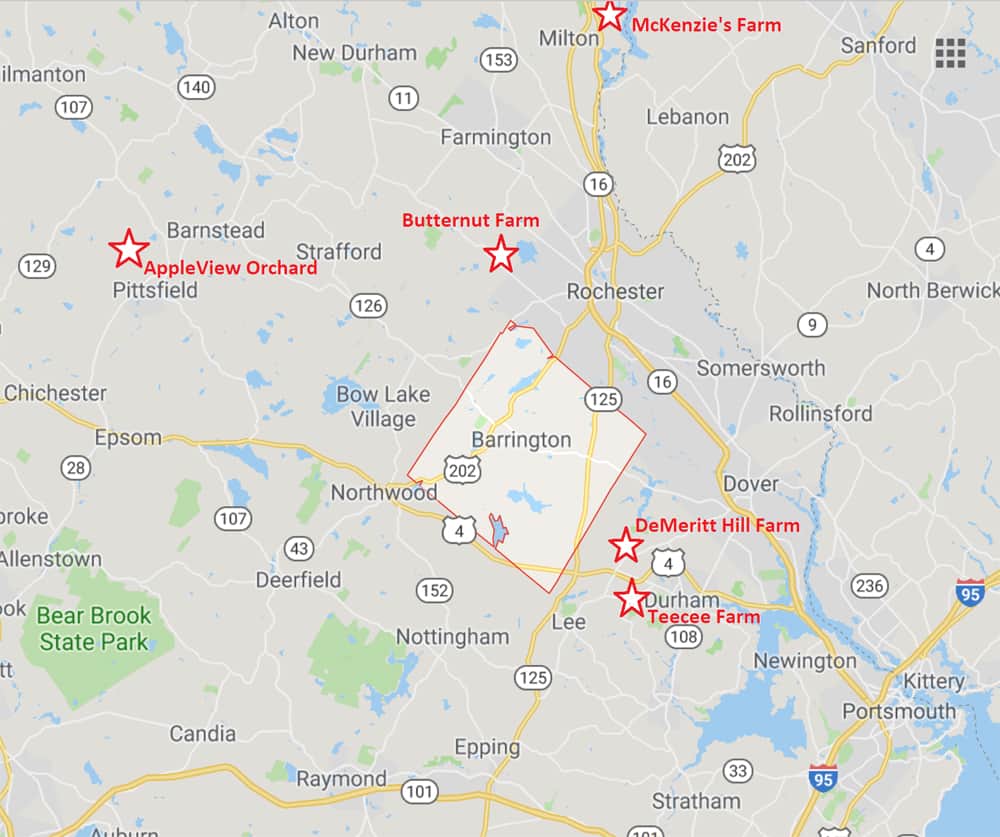 McKenzie's Farm, Milton
Right now is the sweet spot to visit McKenzie's, while they're still picking their own corn, tomatoes, and blackberries, as well as baking fresh pies and bread. Pick-your-own peaches and apples are ready now, too. Their website reports picking opportunities for these varieties currently: Coral Star & John Boy peaches, Zestar, McIntosh, Cortland, & Gala. Depending on the season, this farm boasts you-pick opportunities for raspberries, strawberries, flowers, and pumpkins. This is also one of the few farms that allow you to bring your dog along for the trip (on a leash, only).
Loren Valliere-Tucker is a freelance writer from southern New Hampshire. To share a story or collaborate on a writing project, Loren can be reached at This email address is being protected from spambots. You need JavaScript enabled to view it.. For information about apple picking and farm inquiries, please contact the above establishments directly.