This article is about the SELT TrailFest event which was held on September 5th, 2019.
September 5, 2019 – Join us at the best fall festival for nature lovers: SELT TrailFest! TrailFest is a day-long nature celebration at Burley Farms in Epping, NH.
SELT TrailFest kicks off at 9:30 am with the start of the 5K and 10K trail runs/walks. The races will traverse grassy meadows and forest trails – the course is created to be enjoyable for new and experienced participants. Online registration is open until September 19 at seltnh.org/trailfest. Registration fees vary by race. The 5K is $35 and the 10K is $45. A free 1K fun run for kids will begin at 11:30 am (register in person on race day).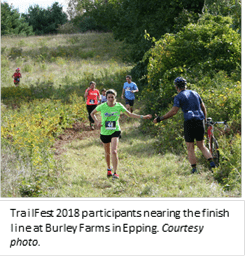 "For those of us who like to get outside and explore, TrailFest is a great way to help support efforts to protect open spaces for people and nature," shared Zoe Aldag, SELT's Volunteer and Outreach Manager. She added, "Many participants are getting their friends, families, and neighbors to pledge a donation for their run. It's really great to see such excitement for SELT's work to protect important regional lands."
Beverly Shadley, SELT's Development Director, added, "We're delighted to announce that a fundraising match has just been added to these efforts. That means that any dollar donated to TrailFest or to a race participant will be doubled up to $10,000. Our donors always appreciate the opportunity to double the impact of their giving."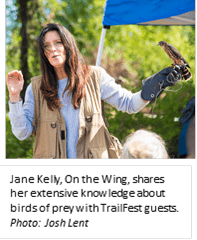 Community members who would like to support SELT's efforts to save, share, and steward special places may make a donation towards this match online at seltnh.org/trailfest.
Festival entry is free with activities starting after the races at 11:00 AM. Join guided walks, nature-based activities for children, face painting, scavenger hunts, exhibits, lawn games, and presentations by Jane Kelly/On the Wing and the Center for Wildlife from York, ME.
Guests are encouraged to make a day of it and bring a picnic or purchase local fare from our vendors: The Railpenny Tavern, NH Home Grown Eats, and The Daily Press Food Truck by Great Circle Catering. Great craft brew from Throwback Brewery and local wine from Flag Hill Distillery & Winery will also be available for purchase. Water stations will be available as well. (Bring your own water bottle to help reduce waste.)
Learn more and register at seltnh.org/trailfest.