A new gas station and convenience store, with a Burger King inside, is under construction on Route 125 in-between Journey Baptist Church and George Calef's near the intersection with Route 9.
The gas station will be branded as an Applegreen, and the convenience store will be branded a Tropic Star. The building plans were approved two years ago according to the Town of Barrington, but the approval process started over seven years ago when the project was deemed an "allowed use," according to the commercial zoning ordinances of the area. The land is currently owned by The Three Socios, LLC of Hampton, NH.
The building site previously had a house and a two-bay garage on it, along with a septic tank and two wells, all of which have been removed. The site will now include 5,000 sq. ft. of convenience store space on a 1.84-acre parcel of land located at 491 Calef Highway, which includes the Burger King. The location will have gasoline pumps in front of the convenience store, and two separate diesel lanes in the rear that can each accommodate the refueling of a semi-truck with trailer. The site will have 33 parking spaces, including handicap accessible spaces, and will be able to accommodate 10 cars with hungry occupants waiting in the drive-thru queue.
Applegreen already has 121 locations in the United States in the North East, Florida, and South Carolina. The locations combine Fuel Distributors such as Shell, Exxon, Mobil, Sunoco, BP, or Chevron with Food Partnerships such as Burger King, Subway, 7-Eleven, Hunt Brothers Pizza, Pizza Hut, and Mama DeLuca's Pizza.
Applegreen is a 100% owned subsidiary of Applegreen plc, a publicly quoted company listed on the Irish and UK stock markets. The company employs over 10,700 people across Ireland, the United Kingdom and the United States. The group has grown to 472 forecourt sites as of December 2018, across the Republic of Ireland (193 sites), United Kingdom (158 sites) and United States (121 sites).
The Burger King will have a drive-thru window, so patrons will be able to get their Whopper Meals on-the-go. Burger King recently unveiled their "Impossible Whopper", which is advertised as 100% Whopper, 0% Beef – made from plants. There is also a non-broiler method to prepare the Impossible Whopper if you're one of those people that don't like your dinner touching anything that had anything to do with meat.
The Town of Barrington hired a third-party engineer to oversee the project. There is only one other operating convenience store with gas pumps in Barrington, while it doesn't provide diesel fuel. Barrington Town News attempted to reach out to the developers, however, they didn't immediately return any comment. Below are the questions we couldn't get answered:
How many jobs is the project creating for construction?

How many jobs will the completed project create for the community?

What sensors have been installed under the tanks to detect for future leakage?

How many gallons of fuel can the tanks hold? (per type of fuel)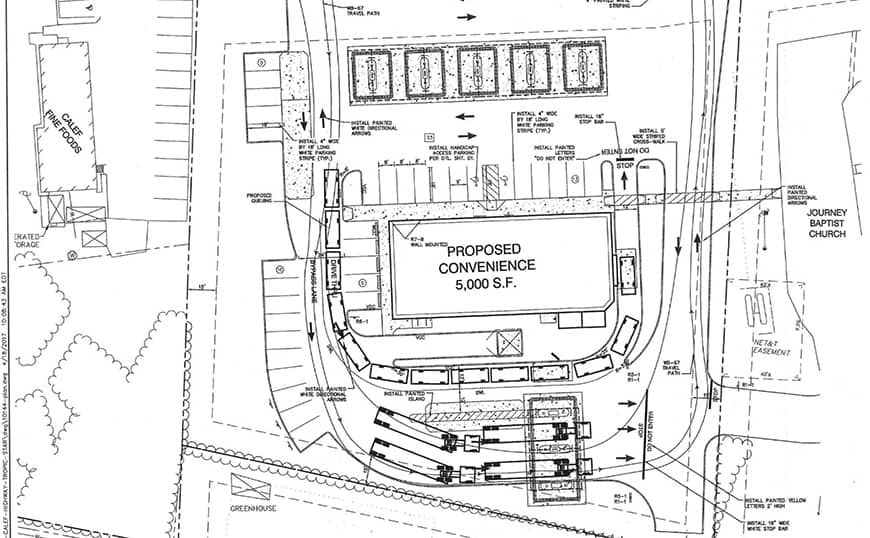 Environmental Concerns
There have been some concerns in the community about the possibility of fuel leaking into nearby community water supplies in the Town Center (TC) and Stratified Drift Aquifer overlay (SDA) Zoning Districts that serve businesses in the area. Residents fought for changes to zoning, which would have prevented more fuel service stations from being built in places above the town's stratified-drift aquifers. There are currently plans to potentially develop a community water supply well at the land directly behind where the project is being built. It should also be noted that the land is in a Federally designated flood hazard zone according to FEMA.
The underground fuel tanks are triple-walled, to provide an extra layer of protection compared to double-walled tanks. According to Containment Solutions, which manufactures triple-walled fuel tanks, the tanks offer three levels of containment protection. The three layers are a primary fiberglass tank, as well as secondary and tertiary walls designed to prevent any spillage into the surrounding environment when the fiberglass tank fails. Containment Solutions' triple-wall petroleum tanks come with a standard 30-year structural and corrosion limited warranty. Usually, there is maintenance and testing that must be performed on fuel tanks after a certain amount of time, which helps to determine if there is any leaking.
Runoff water, including from rainstorms and snow, can often carry small amounts of oil, fuel, and other hazardous waste left from vehicles into catch basins and drains as there are always small amounts on the pavement. To deal with this, there will be quarterly inspections of all catch basins and manholes to determine if there is oil/fuel present. Any materials that are removed from the catch basins and drain manholes will be tested to determine if the materials meet the EPA criteria for hazardous waste, to ensure that they are disposed of properly. There will be an oil/grease separator and sedimentation trap installed on the premises that can hold 2,000 gallons.
There is a plan to prevent spills, including fuel spill grooves at gas dispensers, an inspection of fuel dispensers and underground storage tanks, and a spill clean-up kit will be on hand to clean up 10 gallons of fuel or more. Employees will be trained to stop the causes of spills, prevent the fuel from traveling, and contact the local fire department if there is a spill on-site. All fuel-laden absorbent materials will be collected and placed into air-tight containers provided with the spill kit and will be disposed of according to all Federal, state, and local laws.
Most existing trees surrounding the site will be kept, and 39 new trees of 8 different varieties will be planted at the location. However, the trees will not offset the full carbon footprint of the facility. You can see all the plans for the building site dating back to 2012 in Map 238 on the Town of Barrington website here.